The Versatile Mastiff – Bracing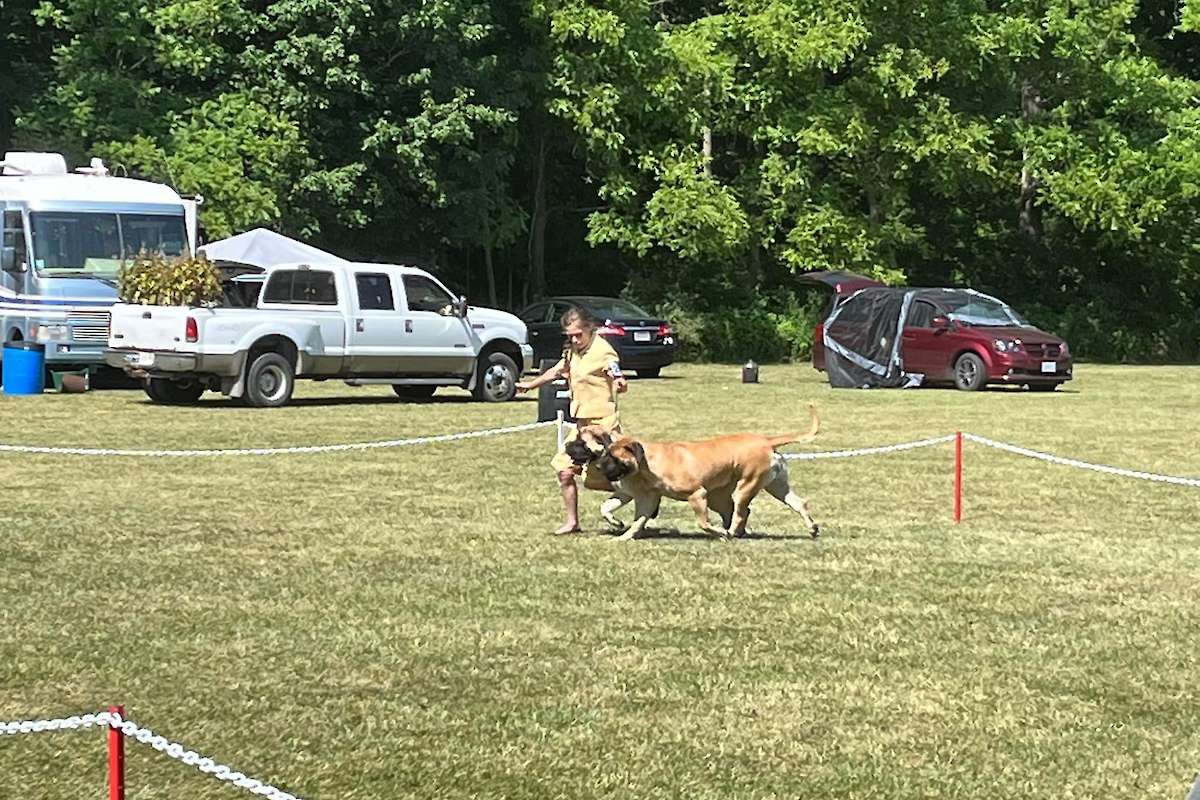 Mastiffs. One word that brings to mind a dog of large stature, however, that one word doesn't show the magnitude of everything the breed exemplifies. There is a very famous saying about the breed, written by Sydenham Edwards in 1800, "What the lion is to the cat, the mastiff is to the dog." In short, the mastiff is the king of dogs from the size of his massive paws to the depth of love found in his massive heart to the versatility of this working dog.
And that is the focus of this article and the series—the working dog. Mastiffs, since their very beginning, have been a working dog. Whether we go back to the days when the breed was used in war or look at mastiffs today who are working as therapy dogs, guard dogs and shining in the world of dog competitions from drafting to obedience, we can see that the breed is still, very much so, a working breed…even if they enjoy evenings (and most days) sleeping on the couch.
Which is where we are starting our series on the "Versatile Mastiff" in a sport that really highlights the temperament as well as the grandeur of the breed. Today, we are going to look at bracing.
What is Bracing?
To understand what bracing is, we must first mention that bracing is an event that occurs during a conformation show, also known as a dog show. What this means is that the dogs are entering the ring and being judged on how closely they align with the breed standard. Although there are other dogs in the ring at the same time, it should be noted that dogs are not judged against each other, it is simply the dog that matches the breed standard the best (for that judge) that wins.
With bracing, dogs are being judged to that same standard; however, instead of them entering the ring by themselves with one handler beside them, the handler enters with two dogs and shows them together.
The two dogs compete in tandem with each other. Gaiting (moving) around the ring side by side. The judge then looks at the conformation of both dogs, how well they move on both their own and with another dog directly beside them, their obedience and the control the handler has on both dogs, and, finally, on the dogs' ability to work as a pair.
While, in theory, showing two dogs in a brace competition is not difficult when they are properly trained and have the temperament for it, showing two mastiffs in brace can be a bit more challenging than your average dog —simply put, instead of having 150 to 250lbs of dog on one end of the lead, you have 300 to 500lbs of dog on that lead and both dogs need to be trusted completely by the handler and with each other.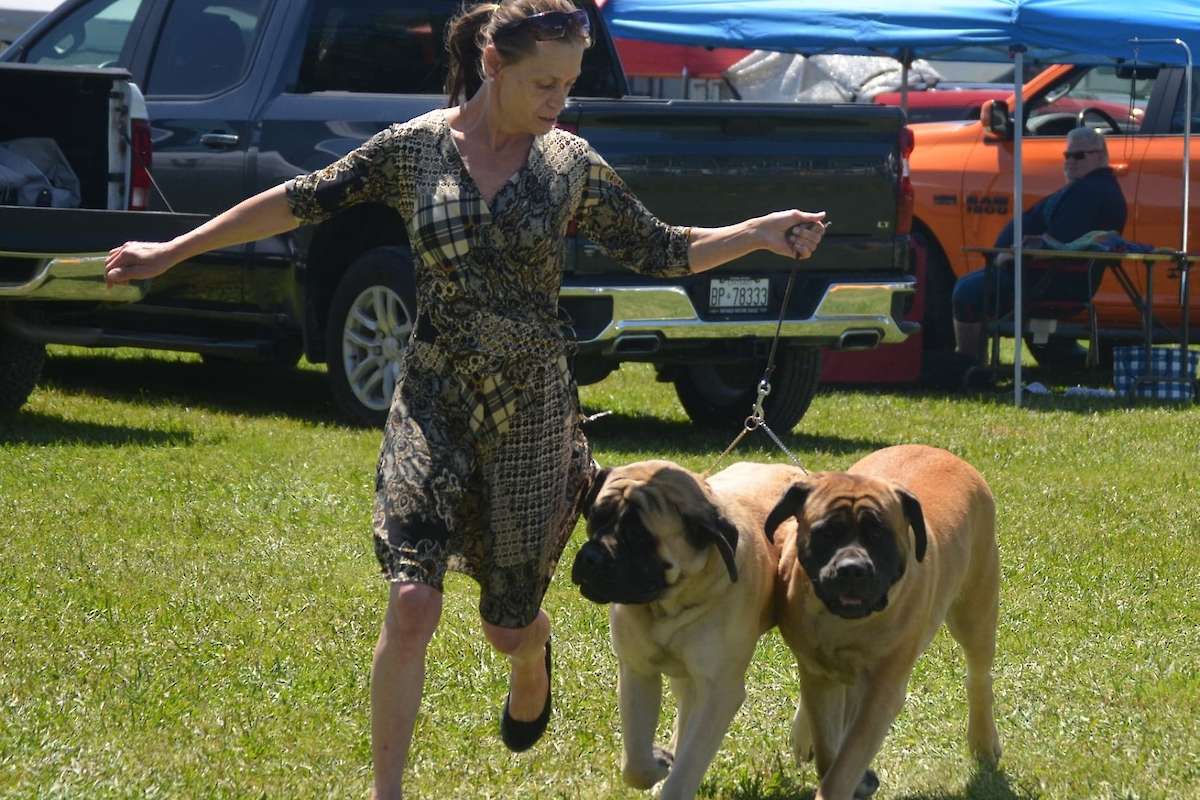 How Do You Select Dogs for Bracing?
I'm sure that you already know some of the things you want to look for in a bracing pair but we should go into a bit more depth about the selection process.
Dogs that are well trained. This is important because you need the dogs to listen to the handler and to do their jobs. If dogs aren't trained to work with a handler, or to go to a show, they won't behave in the ring, which could be a disaster for the handler and dogs.
Dogs with the right temperament. Mastiffs, by nature, are usually very calm and good-natured. However, like every breed, dogs have their own personalities. Some love dog showing, some don't. Some do great with every other dog; some have a select few dogs that they enjoy being with. Some work great with others, some do not. When you are choosing a dog for bracing, you want to choose two dogs that work well with each other and are calm, good-natured and happy to work in the show ring.
Dogs with proper conformation. As this is a conformation show, you want to choose dogs that are as close to the breed standard as possible. This includes in movement, temperament and overall conformation.
Dogs who are similar in conformation. Hopefully, you are entering dogs that are close to the breed standard, which means that they would be automatically similar in conformation. However, breed standards do have ranges within them. For instance, in mastiffs, height and weight can range between dogs and males and females can have a marked difference in size. With that in mind, you would want to choose two dogs who are similar in height, weight and shape for that bracing event. Some handlers will even choose dogs that are the same colour such as two apricots, two fawns or two brindles. ***It should be noted that in some countries, bracing is called "breeding group" and is done with a male and female to showcase a potential pairing.
Dogs who can move well. When we are looking for similarities, you want dogs that can move well and can move well with other dogs. In bracing, the dogs are on the left side of the handler and side by side. You want dogs that will move independently but also as a team so they are moving at the same speed, gait and are not bumping into each other. Some of this can be corrected with training but dogs that move smoothly together naturally will have a better overall experience than a pair who are off kilter.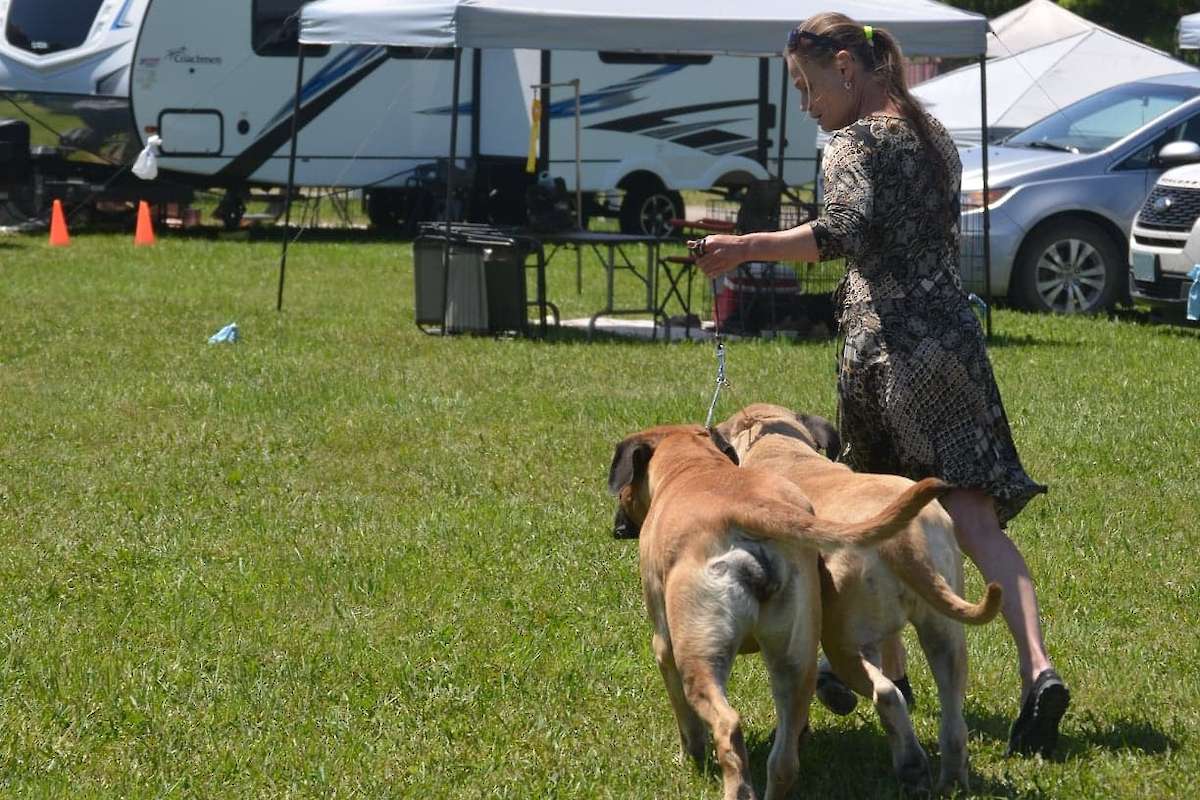 Mastiffs in Brace
As we know, mastiffs are a versatile working breed so it shouldn't be any surprise that they shine in the world of bracing. Unfortunately, in Canada, there aren't a lot of opportunities for bracing at show events. When there is, they take the world by storm.
On July 10th, at the London Canine Association Dog Show, GCh.Northernpaws Cali Lady Ginger For Divon (Divon Mastiffs) and GCh Northernpaws Claudie (Northern Paws Kennels), handled by their breeder Lenka Uhlova, competed in Brace for the Mastiff breed. They won Best in Brace for their breed and went on to take Best Brace in Working Group.
The photos throughout this article are of the pair during their brace. It should be noted that outside of one quick practice the weekend before, the pair (sisters) had zero experience with bracing. They showed that not only can mastiffs shine but when you look for dogs with the right temperament, conformation, training, and similarity, you can do amazing things in the world of bracing.
So, if you've ever thought about bracing your mastiffs, get out there and give it a try. You will be delighted, for the millionth time, at how truly amazing our noble breed is.
To close, I have included a video of Ginger and Claudie with Lenka during their time in the bracing ring.