Welcome to our litter page.
We have puppies!
Please feel free to contact us or join our waiting list.
At Hazelwood Kennels, we are a small hobby breeder and our dogs live right in our home with us throughout their entire lives. Because of that, we have relatively small numbers of litters and usually have 1 to 2 litters every year to 2 years. We are happy to talk to you about dogs in general, mastiffs specifically, and will direct you toward many other great breeders if our plans do not align with yours.
With our litters, we raise them as I would want my very own puppy to be raised with lots of love, 24/7 attention, socialization, early neurological stimulation, house training started at 3 to 4 weeks, regular vet care and vet monitoring, excellent nutrition, and all right under our feet...often sprawled out in our living room. We are dedicated to providing puppy owners with well socialized and healthy puppies. All of our puppies are raised in the home. We believe in early socialization that meets their developmental needs on a daily basis. Please read our article on Early Neurological Stimulation and the Social milestones of puppies on our blog.
Puppies are monitored constantly and we work with our vet to ensure that your puppy goes home happy and healthy. In addition, every litter has their own Facebook group so puppy owners can see weekly live streams that I do of the litters and have a lifelong connection to see how their puppy's littermates are doing in their new homes.
Puppies come with:
CKC Registration (non breeding registration)
2 year health guarantee
Deworming at 2, 4, 6 and 8 weeks.
Microchipping
Puppy Package, which includes puppy photos.
Lifetime support of breeder
Finally, because we are lifetime advocates for proper training and socialization, we offer a $25 rebate for every level of dog obedience that our puppies go through. The rebate is applied to each level once and only for levels 1 to 5 of basic obedience.
To inquire about our upcoming litters, please email us with a little bit of information about yourself or fill out our puppy application here.
Future
We will be breeding Tulip in December or January pending her final health testing. We are currently discussing breeding options with several stud dog owners and will announce once we have made our final selection. For more information or to be placed on the waiting list, please contact us.
Current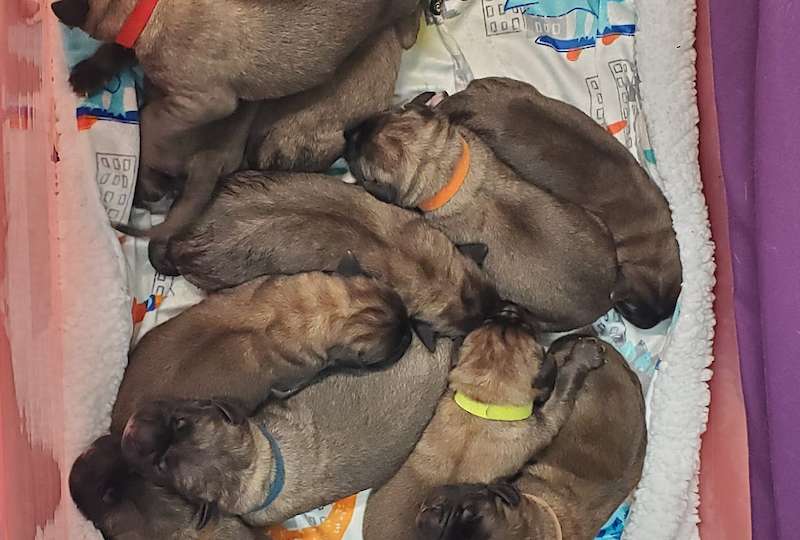 We have two puppies available: 2 girls (Bonnie and Dolly). Please contact for more information or fill out the application for one of our amazing puppies.