You're a Daisy if You Do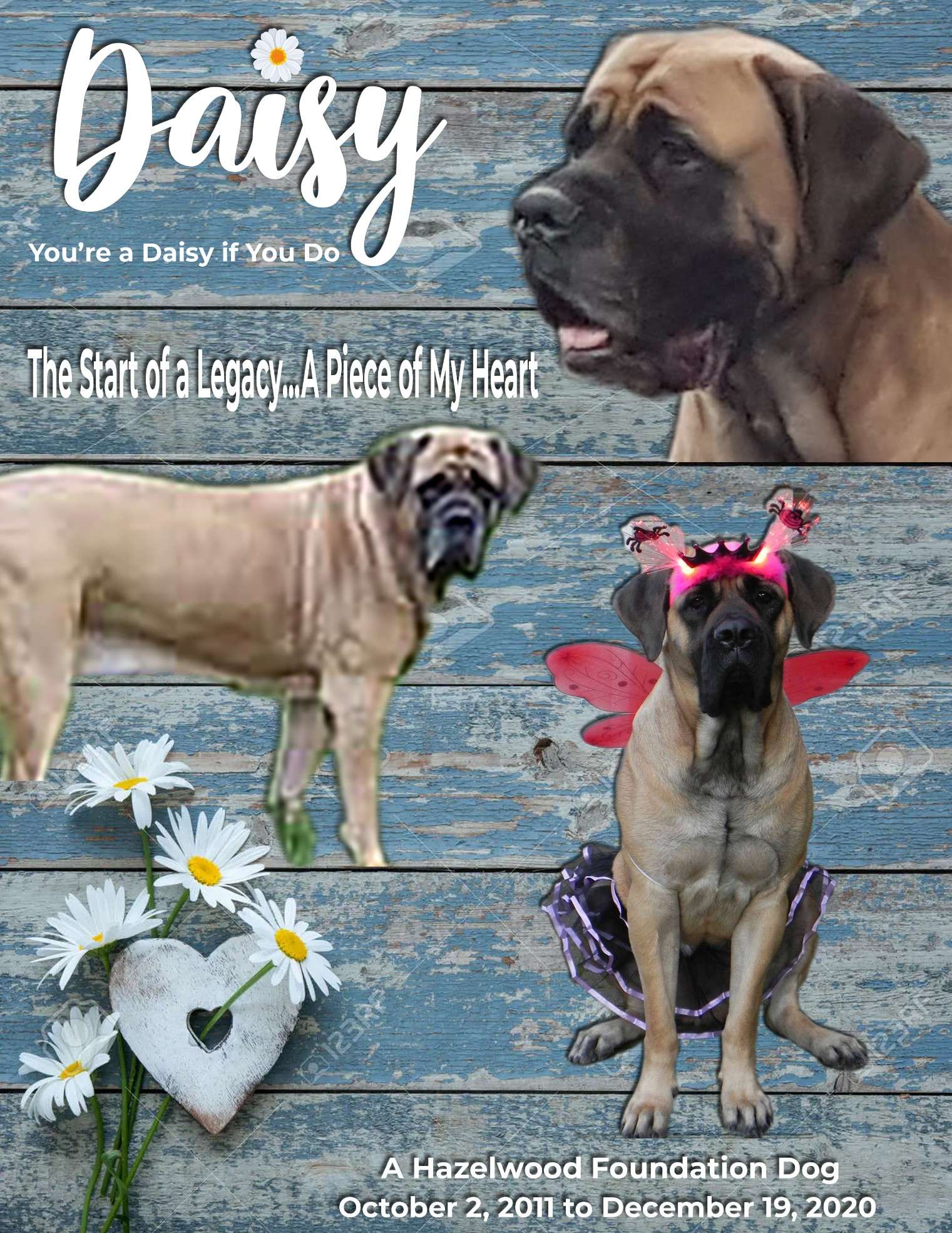 Daisy
October 2, 2011 to December 19, 2020
Our foundation girl, Daisy was my heart dog. She was everything you wanted to in a mastiff and more. Kind, loving and always my constant companion, she created my passion with the breed. She only produced one litter of three girls, our Einstein is her daughter, but she was a loving grandmother and the best dog I have every loved. We miss her every day and the effort I put into all of my puppies is in honour of her beautiful soul. I hope that in breeding, I will give other families the opportunity to own as amazing of a dog as Daisy was. I also hope to keep Daisy's line going for as long as I continue to pursue my passion in the breed. We currently own both her daughter, Einstein Spartacus Fitzgerald, and her grand daughter, Hazelwood's Legacy of Daisy.
Below is a tribute I wrote about Daisy, there weren't enough words to describe this amazing girl and how much she meant to me and my family...and everyone who met her.
When we went to see a litter of mastiff puppies, I never realized how much that litter would change my life. We went there and this large, fluffy puppy caught our eye. But then we saw another puppy and I knew that she was ours instantly. She wasn't the largest and her sister looked like she had a nicer head (which turned out not to be true at adulthood), but the little fawn (light apricot) girl was the one we wanted. When we decided on her at 4 weeks of age, she was the second smallest, and not by much. By the time we picked her up 4 weeks later, just after my youngest's 7th birthday, she was the second largest…only one boy bigger than her.
We often joked that our love made Daisy grow much bigger than the other puppies but it was her that made us grow. From the moment she came home, she was the easiest of puppies. Calm, gentle. She didn't chew a single thing, which was often a problem as Daisy was the star of a training video series documenting the first year of life with a puppy.
I lost count of the number of times they'd slather peanut butter on a shoe in an effort to make it look like she was chewing only to have her stare at them in wonder. She was a quick study for the video series and everywhere she went, she approached life in that same amount of wonder.
Everyone marvelled at her. At her calm nature. At the way she took to informal therapy work with the special needs' children at my kids' school. She'd go every morning and greet a little boy off the bus, completely unafraid of the wheelchair he was in, even at 4 months of age. His teachers would say she was the calming creature that took all his morning frustrations away. When she arrived, his day started for the best.
And she was the dog that helped two little girls not only overcome their fear of dogs (after having been attacked by one) but her gentle nature encouraged the family to get a dog of their own. Everyone knew Daisy…the silly dog who dressed up at Halloween and cleared crowds at festivals due to her resting grumpy face.
But she was never grumpy and she was always ready to love anyone who met her.
She was an angel who protected everyone. She fostered kittens we brought home, the sweet mother who proudly showed the world her "babies". There wasn't an animal that she wasn't gentle with…or child. She loved babies, especially when they greeted her in strollers. She would stick her giant head in the stroller and just rest her head there while the baby wrapped his or her arms around her head and kissed her. The gentlest of souls.
I loved her from the moment I met her and every day, I loved her more than I ever thought I could love a dog. She was the best part of me…she taught me so much and she weathered the storms beside me. Her heavy lean against my side as we laid on the couch or on the bed. For the last 9 years, she has either slept beside me, curled in my arms, or slept right beside my bed. I don't know how I'm going to get up without feeling her in the dark…the reassuring teddy bear who took time every night to check on the kids before going to bed herself.
She has been a constant in our life. The fierce protector who would give her life for us and I would have given my life for her. She was more than just a dog, she wasn't a breeding dog or just a pet, she was my heart and I feel a hole without her here. Leaving her at the vets so they could handle her remains was one of the hardest things I have ever done.
Outside of three trips, where she stayed with a close friend, she has been by my side every day for 9 years. She has travelled with us everywhere: Boston and Nashville and Quebec City and cottages and so many other places and she loved it. She drew crowds of people wherever we went and people marvelled at the special creature that brought a smile to their day.
She would let strangers bury their faces in her neck where I buried my own face today, like many many other days and I could feel my tears soaking her fur as I sobbed against her. So angry that I lost her too young. I had 9 years with her but 100 years wouldn't have been enough.
Daisy has saved so many lives with just being there…things I can't talk about but she is the dog that I hold all other dogs up to. My house feels empty without her. I look at her daughter and granddaughter and I can see her in them and I am so grateful that I kept one of her beautiful daughters so that she will carry on with me. I only produced one litter with Daisy…3 little girls…and I was so worried about losing her that I decided to retire her. It seems unfair that life only gave me 4 more years after that.
We are all devastated. We've spent the entire day crying. The girls seem lost without her. Charlie has stayed close, the old orange cat who'd bullied her into being his friend as a puppy…she was so terrified of his purr…hasn't left my side all day and I know he knows.
She is my heart, my princess buttercup, my baby girl and I will miss her for an eternity. She was the best dog you could ever ask for. Her temperament was pure mastiff but the best of mastiffs…an ambassador of that breed that showed everyone that mastiffs place their giant footprints on your heart and soul where you feel changed just knowing them.
I was blessed to have been loved by her. I only hope that she knows how much I loved her and how thankful I am that I brought her home all those short years ago.
Daisy, you are loved and you will be missed dearly. I love you my sweet girl, my beautiful Daisy. Run free and know that one day, I long to see you there so I can hold you once again.
Daughters