Amedeo Del Fracasso
NTD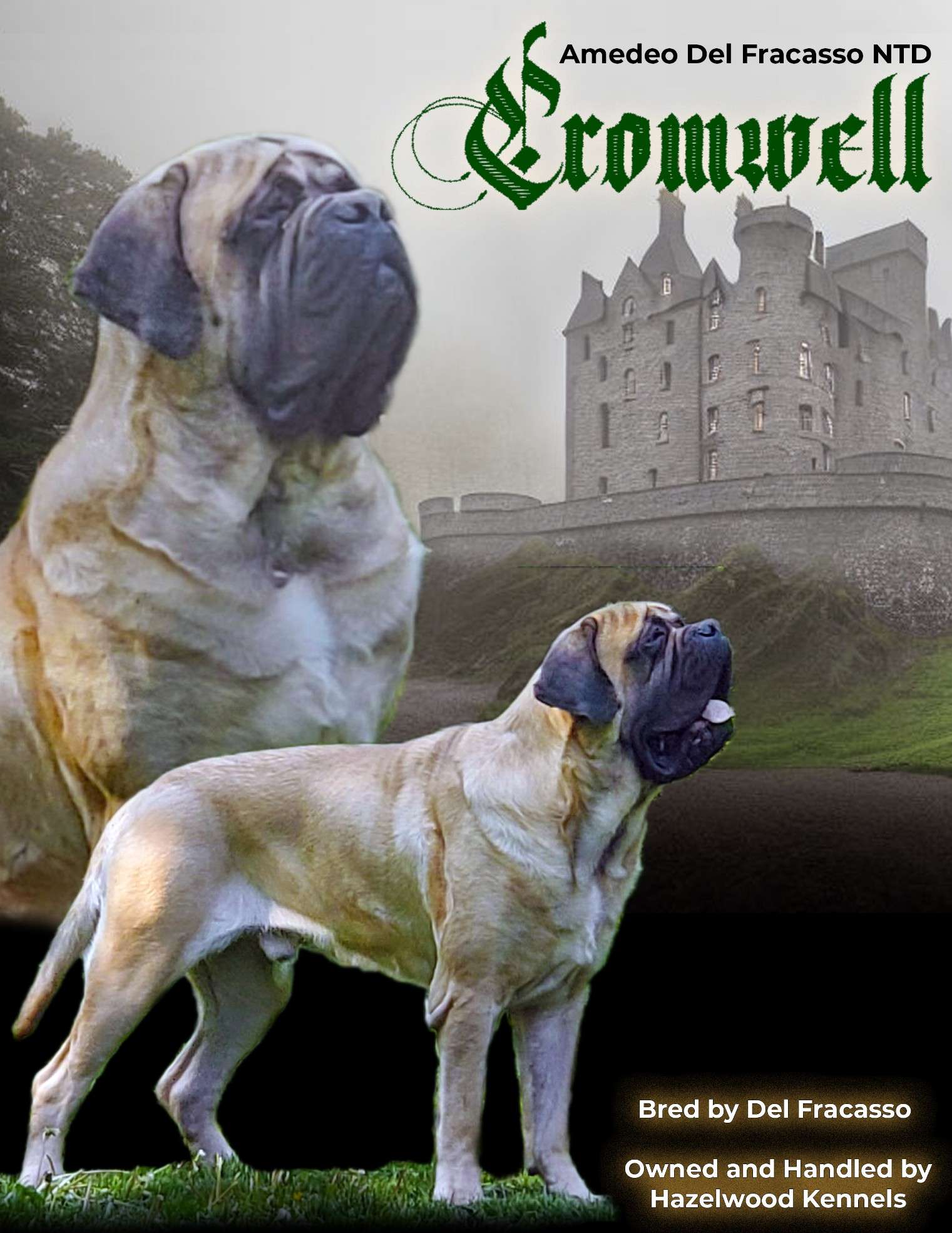 Cromwell
We couldn't be happier to have this wonderful boy with us. He is sweet, playful and just a gentle, all around, boy. He is always happy to sit and watch and is a constant companion. He loves everyone and we are expecting some amazing things in the show ring with him. His registered name is Amedeo Del Fracasso but his call name is Cromwell.
Cromwell comes from a dream line for us. He joined our kennel at the end of April and we can't thank Del Fracasso Mastiffs in Italy enough for trusting us with this amazing boy.
Del Fracasso is one of several lines that are my dream lines (along with the Del Penon De Ifach lines) and this line has a huge number of amazing mastiffs in it that we hope will only improve the quality of our pedigrees and puppies.
In addition, this pup's great, great, great grandfather is INTCH GRANDCH CH CZE SLO POL WESTGORT ANTICIPATION, who has been my dream mastiff since I started in mastiffs. To have one of his grandchildren is a dream come true for me.
Cromwell will be available for stud after all health clearances and titling are done to health tested, registered females. Females must be clear of DM and Cysturnia 3. If you are interested, please contact us for further information.
Cromwell is still having health clearances done according to age restrictions. All genetic testing has been done. He is clear of 212 canine inherited diseases and a carrier for 2 (unaffected and will not produce affected offspring when bred to a clear female. He will only be bred to a clear female). Importantly:
PRA: Clear
DM: Carrier
CMR: Clear
HU: Clear
Cysturnia 3: Carrier
Hips, Elbows, Eyes and Heart will be tested when she is 2 years of age.
Cromwell does carry one copy of the fluffy gene but does not carry any genes that could indicate a mismarked coat such as pied.
Cromwell is part of the Mastiff Diversity Study created by UC Davis. This will assist us with our breeding goals to breed diverse and healthy mastiffs.
For more information on the study, visit their website at https://vgl.ucdavis.edu/canine-genetic-diversity/english-mastiff or to order diversity tests for your purebred, registered mastiff, select the canine genetic test on their order page. You can click on the order tests right from their site.
Ch, WW-Eur., Int It

Cosimo Del Fracasso

Fawn with Black Mask

Ch.

Urano Del Fracasso

Fawn with Black Mask

Max Du Domaine de Straz

Fawn with Black Mask

Gajananstraz Brindle Mastiffs

Apricot with Black Mask

Feloniastraz Del Fracasso

Fawn with Black Mask

Ch.

Oara Del Fracasso

Fawn with Black Mask

Ch.

Ildebrando Del Fracasso

Fawn with Black Mask

Ch.

Guendalina Del Fracasso

Fawn with Black Mask

Ch., WW-Euro

Nubie Del Fracasso

Fawn with Black Mask

Ternzio's Bludger

Bulliff Erk

Brindle with Black Mask

Ch.

Paint It Black U' Tequila

Fawn with Black Mask

Ch.

Cedwalla Calamity Jane

Fawn with Black Mask

Fin Mac Cual At Jengren

Fawn with Black Mask

Cedwalla Sweet Clementine

Ch.

Viola Del Fracasso

Fawn with Black Mask

Ch.

Ottavio Del Fracasso

Apricot with Black Mask

Ch.

Ildebrando Del Fracasso

Fawn with Black Mask

SLO. CH, CZ JCH, SK JCH

Casper Debra-Damo

Fawn with Black Mask

Ch.

Cedwalla Calamity Jane

Fawn with Black Mask

Ch.

Guendalina Del Fracasso

Fawn with Black Mask

Carlo Alberto Del Fracasso

Apricot with Black Mask

Ch.

Cedwalla Calamity Jane

Fawn with Black Mask

Konnie Du Domine De Straz

ChJ

Jason Du Domaine De Straz

Fawn with Black Mask

MULTICH

Exsto Del Fracasso

Fawn with Black Mask

Hermione Du Domaine De Straz

Fawn with Black Mask

Icara Du Domaine De Straz

Apricot with Black Mask

INTCH MULTICH

Valesco De Molossie

Fawn with Black Mask

INTCH

Felicie Du Domaine De Straz

Fawn with Black Mask