BPIG BBPIG CH
Weiler's Mr. Personality at Hazelwood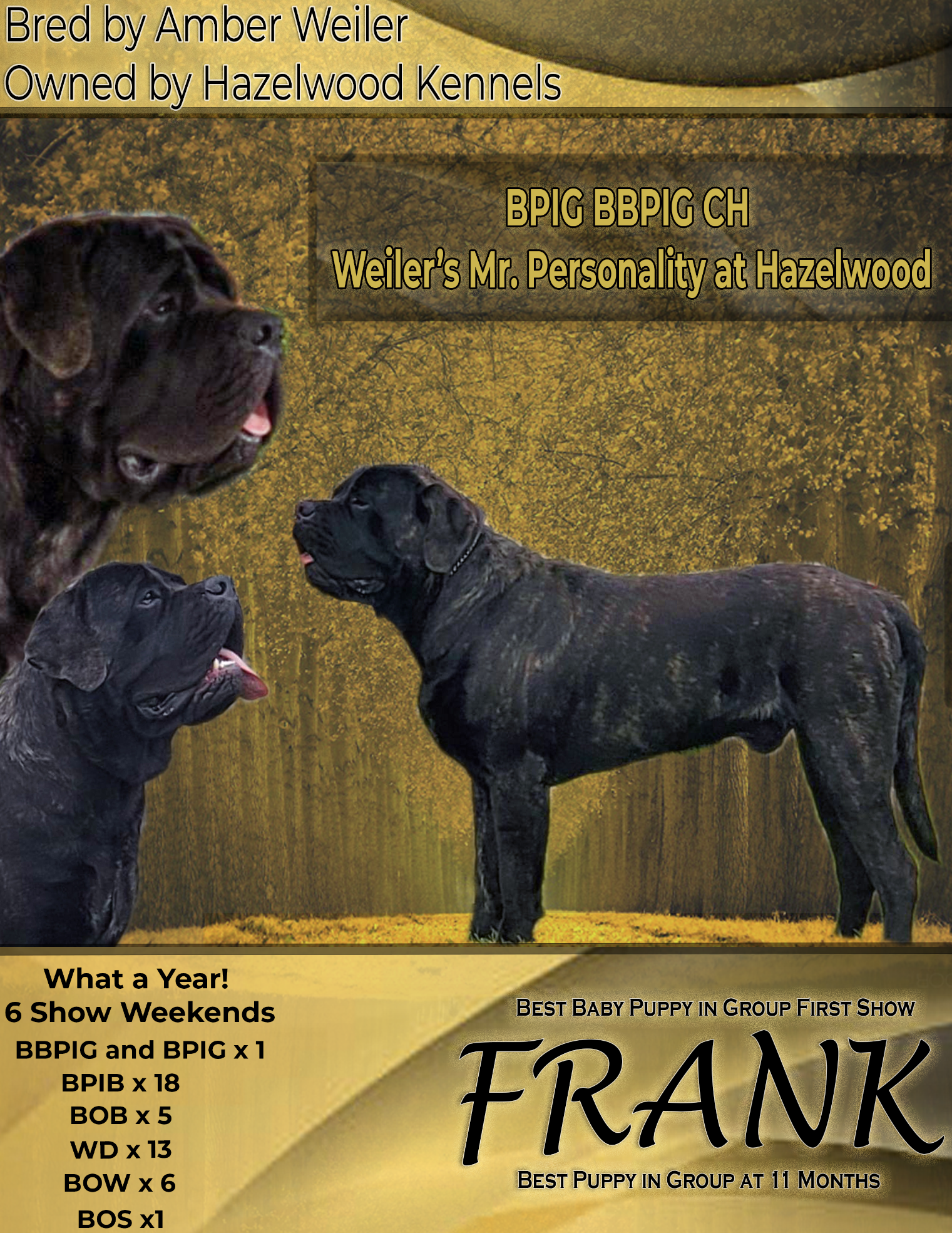 Frank
Sire
Rosehill's The Gloves Are Off At Weiler's
Dam
Weiler's Luck be a Laydee
Coat
Brindle with Black Mask
Breeder
Weiler's Gentle Giants
Frank is an amazing dog that has shown the quality and drive that we look for in a Hazelwood Mastiff. In his first six months of showing, he took Best Baby Puppy in Group as well as a Best Puppy in Group. And he earned his conformation championship at 11 months, 2 days old!
Reviews by judges say that Frank is a puppy to watch and he is definitely shaping into one that we are happily watching grow as our up and coming boy.
Thank you to Weiler's Mastiffs for trusting this boy to us. We couldn't be happier with him. He has an amazing, friendly temperament that we expect from mastiffs and he has truly shone where he goes. His dark colouring is perfect and we hope to continue on this tradition of high quality brindles that is entrusted to us through Frank.
Look for more information on Frank as he continues to shine in the ring and hopefully see him in some other sports in the near future.
Frank is not available for stud at this time as he is only 12 months old. He will be available after health clearances and he turns 2 years of age to select females of merit.
Health clearances pending and, as with all of our mastiffs, Frank will be part of the diversity study with mastiffs. See our other dogs to understand the program.
GCH

Rosehill's The Gloves Are Off At Weiler's RN CGCA CGCU TKN ATT

Fawn with Black Mask

MBISS GCHP

Eastwinds Float Like a Butterfly Sting Like a Bee CGCA

Fawn with Black Mask

GCH AM CH

Eastwinds Ivory Touche

Fawn with Black Mask

Ivory's Jack Of All Trades

Fawn with Black Mask

Ch.

Eastwinds Badabing

Brindle with Black Mask

Ch.

Magnum's Until I Found You

Fawn with Black Mask

Ch.

Britestar's Kodiak Bandit

Fawn with Black Mask

Caledonia Magnum Eclipse

Brindle with Black Mask

GCH, INT CH

Linfert What's Up Buttercup CGC, HOF

Fawn with Black Mask

BIS MBISS GGCH CH

Jadem's Oliver Twist CGC TDI

Fawn with Black Mask

AKC, UKC, INTNL Ch

Greiner Hall Amir Zahar Of Jadem

Fawn with Black Mask

Ch.

Lazy D Pretty In Pink At Jadem

Fawn with Black Mask

Caledonia Linfert You Gotta Have Faith

Fawn with Black Mask

Ch.

Lazy D's Fortunate Son Of Marv

Fawn with Black Mask

Ch.

Caledonia Treasured Heirloom

Fawn with Black Mask

Weiler's Luck be a Laydee CGCA CGCU TKN

Brindle with Black Mask

Stacey's Sweet Midnight Moon AKC TDI THDD TWT TDIG

Brindle with Black Mask

Silentrains Oz Fest O Nine

Brindle with Black Mask

B Heavenly Predator's Magic

Lionhearted G

Have A Trula Beula Dula Day

Fawn with Black Mask

Terri's Merlin

Terri's Phoebe

Weiler's Everything Happens for a Reason

GCHB CH

Stargazers Hillbilly Deluxe

Brindle with Black Mask

Ch.

Brijas Gunslinger CGC TDI

Bedroc's Jo Jo Starz In The Sky

Weiler's Lovely Laydee

Haus Humboldt Wrighteous Zechariah

Polk Mastiff's Lady Layla